LED Street Light Cover MLT-SLH-HS-II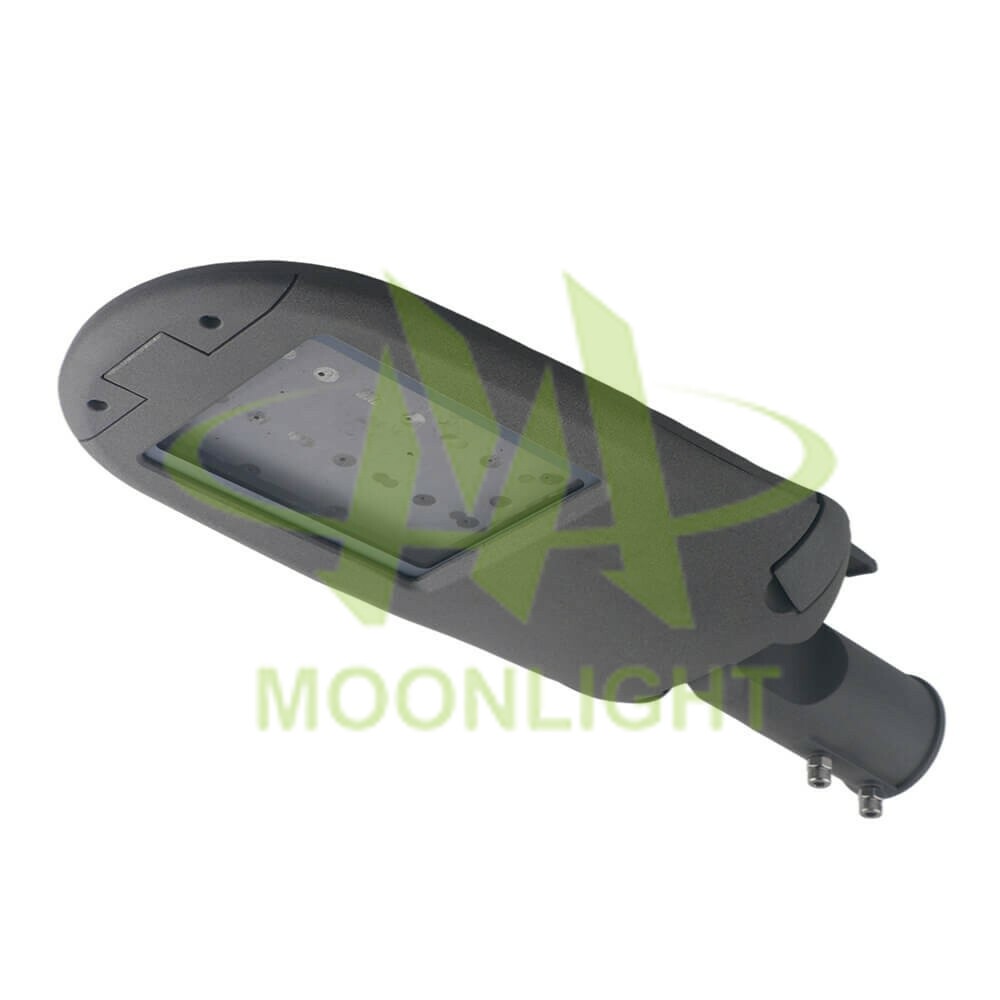 This LED street light cover MLT-SLH-HS-II is the small size of SMD LED street light housing fixture from LED street light case manufacturer Moonlight in H family. In this group, there is also a larger size named LED street light shell MLT-SLH-HM-II which can be used for 100W-150W LED road lighting. Modern design, precision die-casting molded and superior corrosion resistant coating finish housing with standard twist lock photocell mounting platform, make this housing can be used for variety of LED roadway lighting applications.
Durable aluminum alloy die-casting LED street light cover for heavy-duty outdoor lighting applications.
Ribbon-free and compact design.
Easy drainage system.
Separate LED light engine and driver box for easy maintenance.
Tool-less design for replace the LED driver without any tool.
Large driver box complies with variety of drivers and dimming options.
Both cover and bottom of the driver box have the GND bosses for security.
Plastic electrostatic spraying to resist corrosion, chipping and fading.
Adjustable knuckle slip fitter help to adjust the led street light fixture on-site for optimal photometric performance, which make sure that the light distributions, are specifically adapted to the real needs of the area to be lit.
Side-entry or post-top mounting. Universal mounting pieces allows precise adjustment on-site.
5mm high light transmittance tempered glass diffuser.
Silicon gaskets.
SUS304 stainless steel bolts for fastening.
The powder coated die-cast clips make it a harmonious overall with the rest of the luminaire.
Twist lock photocell mounting platform for lighting control.
Quick disconnection terminal block mounting platform for disconnect the power supply for linemen handling security.
IP66 rated, protect from all dust and harsh weather.
Standard sanded gray finish.
Easy to assemble, install and linemen friendly maintain.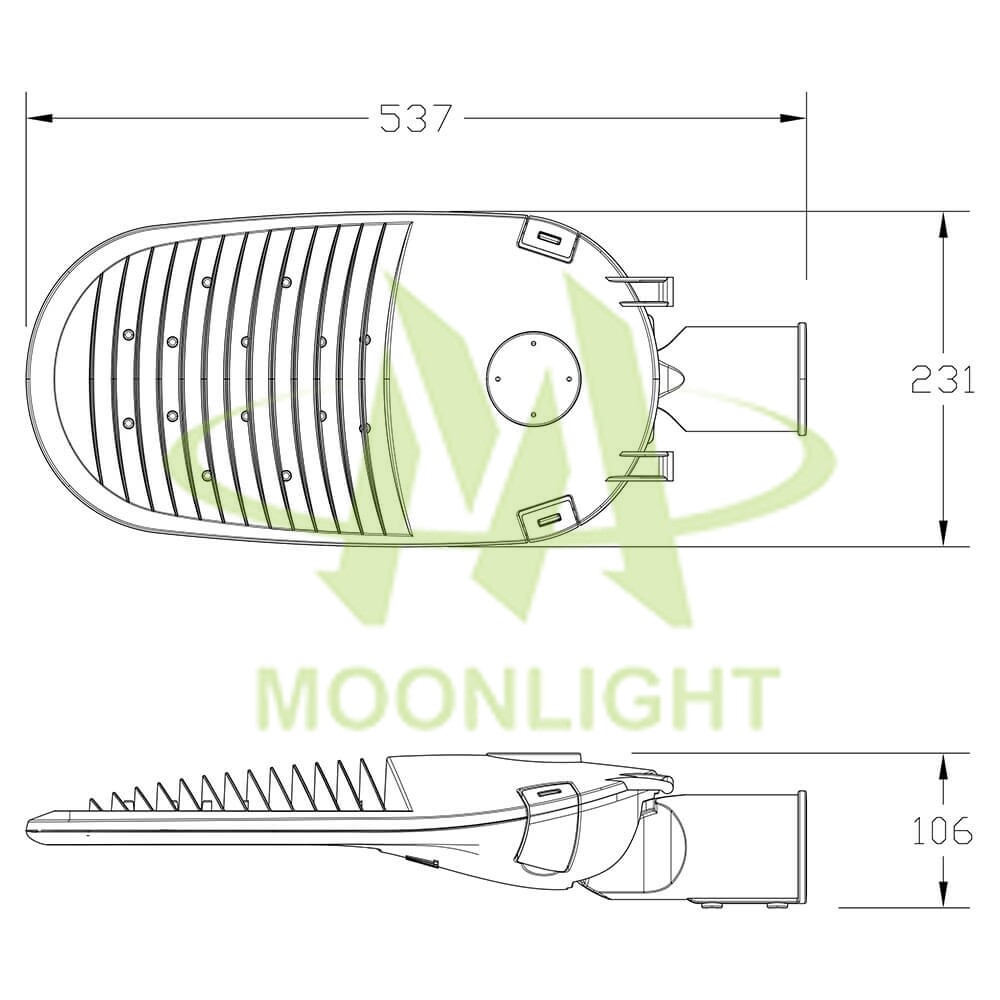 | | |
| --- | --- |
| Model No. | LED Street Light Cover MLT-SLH-HS-II |
| Dimension of Housing | 53.7cm(L)*23.1cm(W)*10.6cm(H) |
| Fixture Material | Die-casting Aluminum Alloy |
| Die-casting Aluminum Alloy Weight | 2600g |
| Surface Finish Color | Sanded Gray or Customized color |
| Material of Diffuser | High Transmittance Tempered glass |
| Effective MCPCB Mounting Size | 141mm(L)*131mm(W) |
| Compatible Lenses | 4PCS 50mm*50mm Lenses |
| Recommended LED Power | 30W to 60W |
| Driver Box Dimension | 140mm(L)*70mm(W)*48mm(H) |
| Pole Mounting | Accommodates up to Φ60mm pipe |
| Adjustable Slip Fitter | -15°to +15° |
| Standard Photocell | Optional |
| Quick Disconnection Terminal Block | N/A |
| IP Rating | IP65 |
| | |
| --- | --- |
| Net Weight | 3.10kg/PCS |
| Gross weight | 8.00kg/carton |
| Quantity | 2PCS/ carton |
| Carton Size | 59cm(L)*32cm(W)*26cm(H) |
This heavy-duty, modern design and cost-effective LED street light housing fixture is typically used as 30W-60W LED street lighting fixture. LED street lighting is used extensively in urban settings, along small town downtown main streets, in residential neighborhoods, in commercial districts, public squares, in industrial parks, at interstate highway interchanges, bridges, and rural intersections.